The light drizzle of the cool spring afternoon did not stop over twenty students from the Highland Falls Intermediate School from learning more about their historic community. Excitement was in the air! Six groups of students were going to leave their schoolrooms for a walking tour of their hometown. But to begin the adventure, they were given a quiz. Questions focused on how much the students knew about their hometown of Highlands and local Highland Falls Historian Ronnie Coffey was on-hand to supply the correct answers.
Did you know that the town was once called Swimtown? Yes – named for an early settler and Civil War veteran.
Where did women first vote in New York State? Highland Falls in 1906.
Did you know President Lincoln once stayed in Highland Falls at Cozzen's Landing (later the site of Ladycliff Academy and now the site of the West Point Visitor's Center)?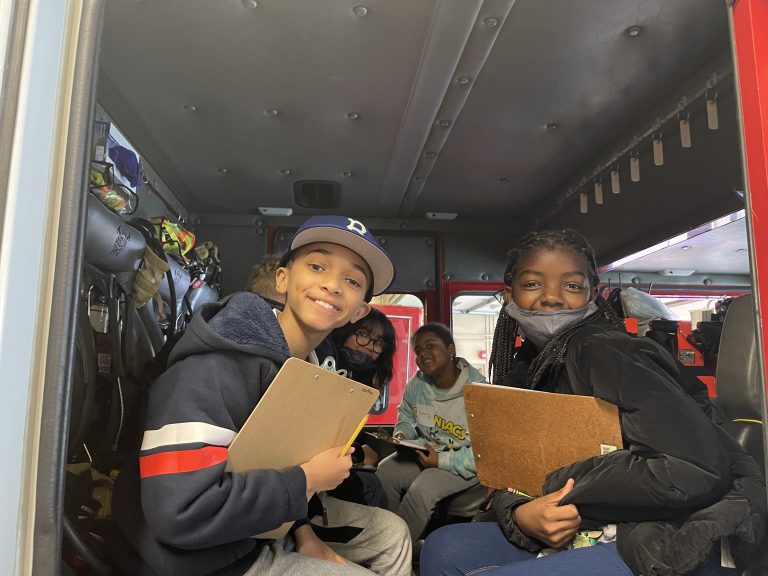 Engaged in competitive learning, teams vied for the correct answers. Thirsty to know more, the students then left the school on a tour of Highland Falls. Walking down the hill following the sidewalk, they stopped off at important sites along the way. At Memorial Park, they saw the monuments to those residents who served in World War I, World War II, Korea, and Vietnam, and first responders at 9-11. At the local library, they toured the stacks and visited with Finnigan, a dog who volunteers to have children read to him twice weekly. Stops also included the Fire House, The Center of Highland Falls, and the Historical Society. At each stop members of the town were delighted to engage and share their stories with the younger generation and most importantly were so pleased to see new community connections igniting young minds and making a difference in students' lives. And as no great day out should end on an empty stomach, the tour concluded with ice cream for everyone back at the school.